Westminster- Adel Darwish 
HM government  published an official policy document setting out its Brexit plans; known as " The White Paper" which  opposition MPs and the remainers have been urging The Prime Minister to do.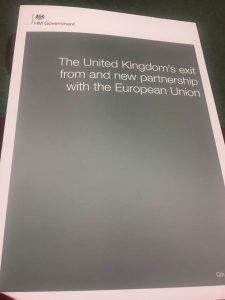 The White Paper, a 77 page document in dark grey rectangle on the front page, lays out the government's 12 "principles" , previously spelt out by Mrs May in her Lancaster House Speech last month,  including migration control and "taking control of our own laws".
The paper presented by David Davis MP, The Secretary responsible for leaving the European Union who said the country's "best days are still to come", outside the EU.
The Opposition labour party Labour criticised the White papeer as "says nothing" and had been produced too late for "meaningful" scrutiny.
The White Paper, officially known as " The Uniteds Kingom's Exit from, and new partnership with, the European Union White Paper"  sets out the themes of the government's objectives  to reach by negotiations with the EU.